lightfoot
'Impressions of LIghtfoot'
"James McRae's concert last night was fantastic. Thank you very much for bringing it to the
little church in our little town. What exceptional interpretations of Lightfoot songs.
The musicians he convinced to perform couldn't have been better chosen."
David Addison - music lover, Chemainus B.C.
March 18th 2017
"The Hermann's (Jazz Club in Victoria) performance was outstanding! What a beautiful project
and great representation of Gordon Lightfoot!
Tom White, Victoria B.C.
March 19th 2017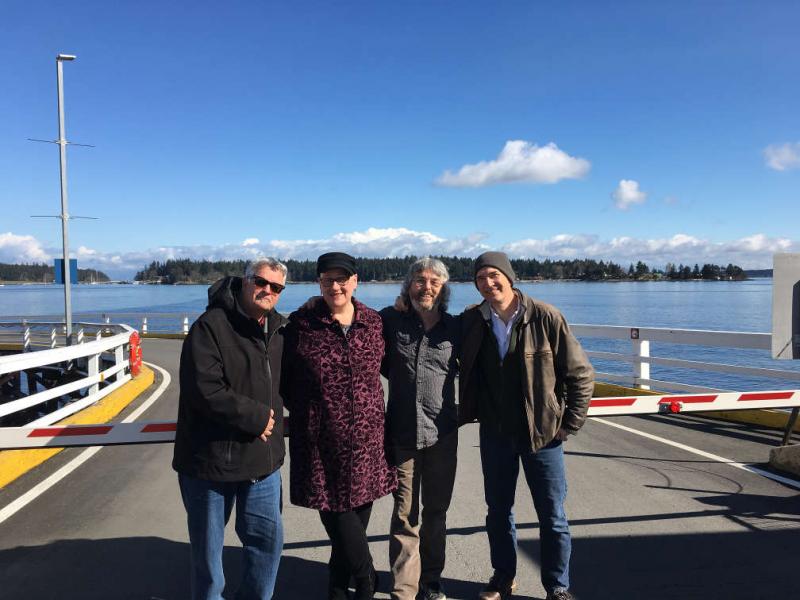 Impressions of Lightfoot
"Impressions of Lightfoot" recognizes the importance of Gordon Lightfoot's deep and
everlasting contribution to Canada's musical culture and heritage. The band features three of
Canada's most highly regarded and sought after musicians; Jennifer Scott, Rene Worst, and
Miles Black under the leadership of James McRae, the arranger and drummer behind this idea
of re-envisioning Lightfoots iconic songbook with these fresh interpretations of his music.
Vancouver vocalist Jennifer Scott, specializes in Jazz, Blues and World Music and is considered
one of today's most important Jazz artists, working in both Canada and the USA. She has
played with Gene Bertoncini, Clark Terry and Kenny Wheeler. "Scott has set herself apart from
the jazz-vocalist pack with mesmerizing renditions of the most unlikely tunes"
Andy Gilbert (Jazz Times): www.jenniferscott.ca

Westcoast bassist Rene Worst is a Canadian treasure. He's a virtuoso and supportive bass
player whose ability on both acoustic and electric is a rarity on today's music scene.
Rene has played with Chet Baker, David Bowie, Herb Ellis and etc. www.reneworst.com

Vancouver pianist Miles Black is a highly respected career musician who brings an
enormous wealth of musical experience and expertise to most every facet of the music industry.
He's played with Oliver Gannon, Houston Person, Lee Konitz, and Slide Hampton. "Miles is one
of the finest collaborators you could ever hope to have." Mike Allen. www.milesblack.com
Electronic press kit, bio, and etc of James McRae - here.. "James is an outstanding jazz drummer."
Peter Sinclair, Georgia Straight Jazz Society member.
"Have a listen to James' splendid new jazz CD" Joelle Rabu, Canadian Singer - Songwriter.
Here , here and here are some pictures a few friends Peter Sinclair and Bill Jorgensen took at the GSJS event March 16th 2017.
 Great inverview on this project with RIck Gibbs @ islandjazz.ca  here - March 1st- 2017
Fantastic interpretations of 'Lightfoot' James! You should be so proud of your accomplishment
and the joy you brought to the audience!
Patricia A. Selman, Music Promoter - Member of Chemainus Valley Cultural Arts Society.
March 20th 2017
"Congrats on an excellent show on Sunday!  I loved every moment of it!!  You
were terrific (speaking parts too! LOL) and your music colleagues were
wonderful.  What a talented group of people you are!!  You must be very proud.
It was a great success."
Linda Dier, music lover,  Choral Music organizer,  Nanaimo B.C.
Mar 21, 2017
Here is the video page for some of our live performance material from April 21st 2018.
Stage plot with short technical rider.