Impressions of Lightfoot island tour march 29th- april 1st 2018
These  Impressions of Lightfoot gigs are an outgrowth from the recording we released in July 2017. Jennifer Scott - vocals/melodica, Nico Rhodes- piano, Ken Lister- bass and myself on drums. The first date is for the Georgia Straight Jazz Society on Thursday March 29th 2018 - 730pm start..  We play at Hermanns Jazz Club on the Friday March 30th - 8pm start.. 20$ advance tickets can be gotten at Allison Piano.  Saturday MacMillian Arts Centre in Parksville - 20$ / 18$ members.. Tickets for this event can be bought off their website - http://mcmillanartscentre.com/  On Sunday April 1st at 2pm, we are playing at The Roxy on Gabriola Island.. Advance tickets can be gotten at North Road Sports in the island business centre area.  Thanks for checking in.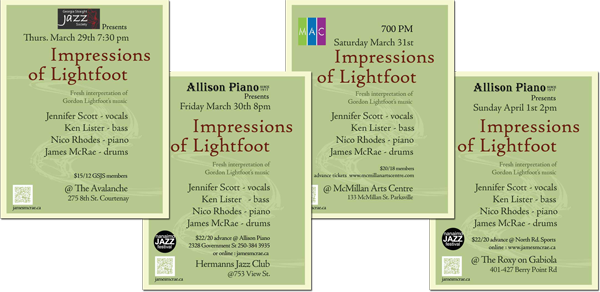 see inside note - 4 venues
Thursday, March 29, 2018 - 7:30pm
20$ advance, 22$ at the door.